Job Matching
Let us find jobs for you based on your skills and experiences in your LinkedIn profile.
Hear from our Senior Director of Manufacturing Operations
Ted Carlson, Senior Director of Manufacturing Operations at Upsher-Smith Laboratories
I get asked by people all the time what makes Upsher-Smith special. I tell them "We're an awesome place to work!"
Our culture honors its employees and the company has a mission they can feel proud about. The Upsher-Smith mission - to make quality affordable medications that improve the lives of patients and families - which made a huge impression on me, was a major factor in my own decision to join Upsher-Smith.
Some of the many benefits we offer in our manufacturing and packaging division include competitive wages, educational reimbursement and ongoing training designed to help employees grow in their careers. As we like to say, we're big enough to attract the right people, and small enough to care about them. We treat coworkers like family, making a point to celebrate birthdays and anniversaries and offer other fun perks you won't find everywhere else.
When you're an Upsher-Smith employee, no matter what your role, you can feel proud knowing the work you do makes a difference. Join me and Upsher-Smith, so that you, too, can make a difference!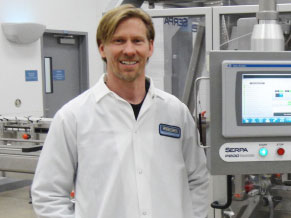 Developing quality products that measurably improve lives. Upsher-Smith offers challenging careers and opportunities for personal and professional growth in an array of areas. We are committed to the dynamic and ongoing training and development of our most important assets—our employees. We currently have openings in Manufacturing Operations, which is responsible for converting individual component materials into high-quality products while maintaining a consistent and efficient product supply at the lowest possible cost. With these opportunities come a full range of employee benefits (including shift differential pay for 2nd and 3rd shift positions) and a workplace where we continue to pursue creative solutions that enhance the employee experience. Explore an Operations career with Upsher-Smith and help us fulfill our mission to deliver therapies and solutions that measurably improve lives.
Our Manufacturing Locations

In addition to being a popular place to live, Plymouth is also the choice for many businesses. The city is home to a thriving commercial-industrial base, consisting of more than 53,000 jobs. Learn More

Minnesota has been ranked the #1 best state to raise a family for the last two years. Learn More

Minneapolis is the fittest city in the US 3 years in a row! Learn More

Minnesota has 90,000 miles of shoreline, more than California, Florida, and Hawaii combined. Learn More

There are over 400 theaters in MN — MN is second only to New York City in live theater per capita. Learn More

Minnesota has a professional team in every major sport for year-round fun and excitment. Learn More

Denver Colorado is the Best Place to Live for 2016 according to US News Learn More

Colorado is home to Red Rocks, one of the most popular National Parks and the only one to boast an outdoor music venue. Learn More

Denver enjoys 300 days of sunshine! Learn More

In addition to a football, basketball, baseball, hockey and major league soccer team, Denver also has two pro lacrosse teams, an arena soccer team, Australian rules football team, and rugby team. Learn More

Denver has plenty of hiking and biking for the those who love the outdoors. Learn More

Denver leads the nation in college grads making the choice to live in the city. Learn More
Enjoy these Benefits:
Fitness Club reimbursement
Casual dress code every day
Take your birthday off as a holiday
Free soda and coffee in our facilities
Free wellness programs, including biometric screenings and flu shots
Pet insurance (they are important, too!)
Manufacturing Operations Testimonial
Upsher-Smith offers a fun, fast-paced environment where I'm always learning something new. While working here, I've been able to develop my skills in leadership and teamwork, as well as my technical skills. Our leaders encourage us to think out of the box, and our training department supports our growth and development. I'm proud to work for such a strong team!
— Suzannabeth Mua, Sr. Packaging Tech
Manufacturing Lead Testimonial
At Upsher-Smith, my work is very detail-oriented and precise, and it gives me the opportunity and the challenge to learn something new each day. I really appreciate the team atmosphere and my co-workers, who lend a hand whenever it's needed. I also feel a lot of satisfaction in knowing I'm helping develop products that will help others.
— John Gibbons, Manufacturing Lead